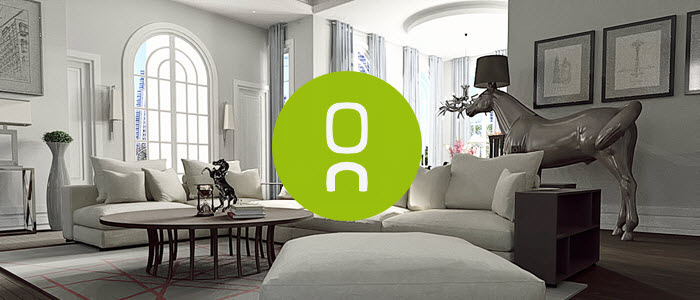 Design your scene, apply native materials, lights animation and render on the cloud your 3d visualizations, 360 degree videos and more.I am happy to say that OneRender, the platform from Prefix, Inc for creating 3d scenes in a web browser and then rendering them on any number of virtual GPUs in the cloud is now live. My company Proactive International has been in an advisory role for OneRender for over a year.
Why OneRender?
I have been working in the 3D and FX market since 1997, when e-on software released Vue 2, the 3d natural scenery environment, and subsequently handled a great number of advanced 3d tools such as Shade 3D. It has taken this amount of time for there to be a viable 3d visualization tool that can operate in a browser.
For 3D artists – both professional and learning – this is quite a tool. You can lay out your scene entirely in your browser, set it up to render high resolution images and video, start your render and then — log out! OneRender is not a render farm, but it renders on a virtual, cloud based network.
This makes OneRender a fabulous workflow solution, where all the hard work is happening off your network. Consider for example how students learning 3d architectural visualization can work on a project, start it rendering, then log out, allowing the next class to come in and work on the same computer.
I am quite selective in the companies I work with. The technology has to really impress me – either in workflow, or output, or preferably both, OneRender has both.
Check out the feature list below, and sign up for a free account.
OneRender Features
Multiple cameras each with their own position, custom settings, depth of field settings
WebGL-based scene layout environment that works with Mozilla Firefox, Google Chrome and Apple Safari
Project Presets to start a 3D scene or create new ones from scratch
Sensible 3D layout environment with grid planes and rulers for precise object positioning
HDR global illumination lighting and emitter objects (including invisible emitters) to illuminate your scenes
Replication / instancing for creation of complex, multi-object scenes (forests, buildings, cars, etc)
Import Wavefront OBJ, 3DS, FBX, STL and Blender files with texture maps
Drag & drop native physically based materials from a growing 200+ public library or create your own native materials
OneRender unbiased renderer powered by NVIDIA and save into multiple formats including 64bit EXR with mutiple tone mapping options
Standard and Pro levels of OneRender also add:
800 render points per month (compared to 50 render points for the Entry level version)
Priority Cloud Access. Render points can be spent to render faster on GPUs on the cloud, when you need it
Multi-pass Rendering. Render only specific layers or elements in a scene for later post-processing
360 Degree and 3D Renders. Render full 360 degree, 3D images that can be displayed in Facebook and on devices such as Google Cardboard or Oculus Rift compatible applications (coming soon!)
The Pro Level also adds:
5500 render points per month
Full HD Video Rendering. Camera animation rendering with soft trajectory calculation for fast scene based animation and visualization walk-throughs (coming soon!)
360 Degree Video. HD 360 degree video animation that can be displayed in Facebook and on devices such as Google Cardboard or Occulus Rift compatible applications (coming soon!).