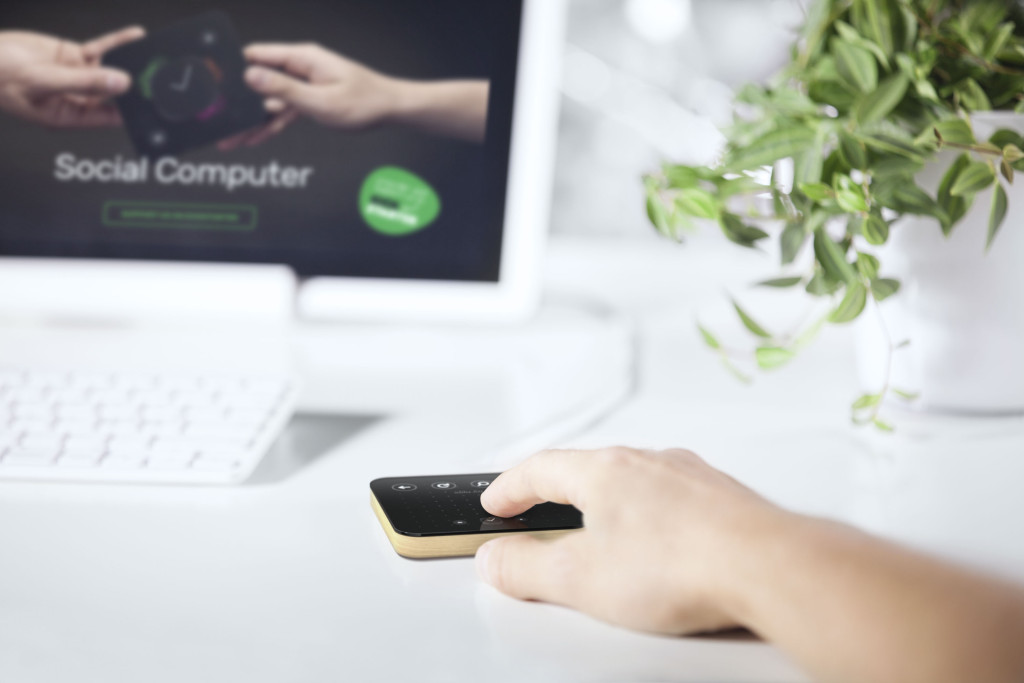 Finland-based Solu wants to sell you a hand sized computer with its own OS, screen and apps in a cloud. And its partly made of wood. You should get one.It isn't a tablet, but its got tablet-like qualities. It isn't a desktop, but its got desktop-like qualities. Neither of these things is a crime, but is this a revolutionary device? Is there really room for a new type of device?
Certainly there is. We've gotten very focused on categories rather than functional purpose. We've accepted subscriptions and walled gardens as the norm. No, lets look at what we need to get done, and what is the best tool for that purpose. It is one of the reasons why only recently has the iPhone offered me similar functional value to what I had with the Palm V which launched back in 1999.
I can't tell immediately if the Solu is such a device, but I like the simplicity and flexibility of the device.
The ability to work with existing devices, like monitors, keyboards and external plugin devices via USB brightens my day.  Solu is pushing us into a cloud based service infrastructure, and they really need to disclose the details of that, costs, demo apps, etc to demonstrate value.
The hardware tells me that if the service architecture dies tomorrow, some handy hackers can come along and transform this little device into something else.
This isn't an iOS or Android device, and that's okay. What the real test is going to be are the monthly pricing for the cloud service and also useful applications from the very start. They haven't really shown us much yet, and they really need to do just that.
Solu has a manifesto, and a CEO with an unusual hat. I work on the outskirts of Portland, Oregon, so these modest irritations are easy for me to ignore, but their manifesto isn't helping. He could have a walk on part in Portlandia or Grimm. The hat is starting to grow on me, and he's got a good beard too.  They should drop the manifesto.  Let your product do the talking for you.
But don't support the Kickstarter because of the quirky message. This looks like it could be a very functional device, and the entry price via Kickstarter is tolerable for what you are getting.
Technical Specifications
Screen – 1440 x 1440, 450ppi with an edge to edge touch
External display – support for up to 4K monitors
Processor – 2.3GHz NVIDIA 4-Plus-1™ quad-core ARM® Cortex™-A15 CPU™
Graphics – NVIDIA Kepler™ GPU with 192 NVIDIA CUDA® cores
RAM – 4GB LPDDR3
Cache capacity – 32GB
Connectivity – Dual-band 2×2 MIMO WiFi (802.11a/b/g/n), Bluetooth 4.0 and USB Type C
Battery – 1200mAh
Dimensions – 102mm (4.02in) x 102mm (4.02in) x 13mm (0.512in)
Operating System – SoluOS
Where to Find it
The Solu seems to be arriving in January, 2016, and its being Kickstarted with an end date of November 14, 2015.
My Top Three for Solu
Here's what I would tell the Solu team about their product and offering.
Show me how to do some day to day task easily ON THE DEVICE, like very easily organizing my calendar – you have a great demo app, right?
Get your cloud subscription costs out there and make it cheap
Keep the hat, beard and wood but get rid of the manifesto