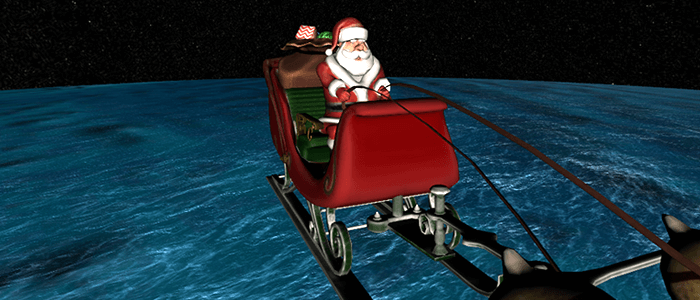 Smith Micro's Emmy Rey interviewed me about my involvement in the NORAD Tracks Santa program. Continue reading Smith Micro Interview about Proactive International, Meshbox Design & NORAD Tracks Santa
NORAD Tracks Santa is now live again, allowing children throughout the world to learn about Santa and also to track his path on Christmas Eve. This program began in the mid 1950s with radio and telephone, now in its 58th year. Proactive International divisions Meshbox Design and Mirye Software have been corporate contributors since 2006. We are one of very few corporate supporters that have supported the program over consecutive years, though I admit we are probably the smallest contributor.
What do we contribute?  Meshbox Design makes the ultimate 3D Santa Claus for Poser & DAZ Studio, Toon Santa(tm). Each year this model is improved, updated and given a new theme; now in its eighth incarnation. NORAD has used Toon Santa as its official Santa since 2006. The Meshbox team created a special derivation of Toon Santa just for NORAD.
This year, Toon Santa isn't quite as visible on the main NORAD Tracks Santa site after a major redesign (this happens every year), but you can find him on the NORADHQ page, along with Toon Reindeer. Meshbox Sleigh from Toon Santa's Sleigh and Sled Garage is also featured on the About Santa's Sleigh page on the NORAD Tracks Santa site. If you like these characters and models, they are available for licensing through the links above. But this year, you  can also see Toon Santa on the Official NORAD Tracks Santa gear site. Toon Santa may appear elsewhere – keep your eyes peeled.
We used Shade 3D and Smith Micro Poser for Toon Santa and the other models. There isn't a better combination of tools for creating and animating 3D characters and creating visually stunning scenes. Plus, there's a free version of Shade to try out – Shade 3D for Unity.